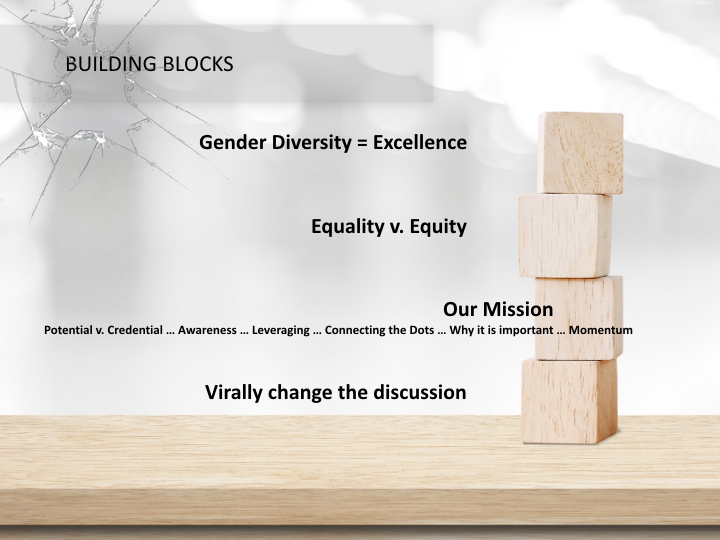 We are a group of experienced professional women who came together to help organizations thrive and grow emerging women leaders into meaningful leadership roles. Our diverse and hands-on experience gives us a unique perspective into challenges and opportunities facing today's leaders.
MEET THE FOUNDER and TEAM
Patricia Dziuk
Pat Dziuk is a 31-year construction industry veteran.  Initially in field office and light trade positions followed by extensive quality control and project management on large commercial projects she ventured on her own 15 years ago as owner of a design-build general building contractor and construction management firm, WBE Contractor.  A woman-owned small prime contractor, Pat is keenly in-tune with the challenges and opportunities for women in the industry.  Much of her work focus is in collaboration, teaming, and pioneering means and methods for effective execution of US Department of Defense work including minority inclusion in the U.S. and in the Middle East.
Her enthusiasm in spreading awareness of the unique value that women add to business while engendering appropriate inclusion has evolved throughout her entire career.  Initial works to instill effective change and spontaneous awareness of bias began many years before her decision to dedicate her work to it at Above Glass Ceilings, now actively helping to anchor the pivot to a gender-parity mindset.
Nancy Novak
Visionary Champion & Board Member
Nancy Novak is one of the foremost experts in the world on the construction of data centers and mission critical facilities. She is currently the Senior Vice President of Construction for Compass, with more than 30 years of construction experience in the construction industry. Prior to joining Compass, Nancy was the National Vice President of Operations for Balfour Beatty Construction which she joined after serving in a variety of executive positions in operations for Hensel Phelps Construction Company. Nancy holds a degree in Construction Engineering and Management from San Diego State University. She speaks regularly around the country on the topic of data center construction, women in construction, women in technology and STEM education for young people. She is also one of the most respected voices in the U.S. on the issue of gender equality in the construction and technology industries. She is actively involved in a number of organizations dedicated to the advancement of woman in business, including Above Glass Ceiling's (AGC) who are working with Fortune 500 companies to aid in the advancement of women in STEM, Women in Government Relations, Women Construction Owners and Executives (WCOE), The World Trade Center Initiative, Fortune Media's Most Powerful Women and the National Woman's Party. Nancy is a frequent speaker on the topic and has participated in the White House Womenand Diversity in STEM forums.
Tawnya Ravy
Tawnya is a Doctor of Philosophy Ph.D. English Literature with emphasis on South East Asian Literature. She is a graduate of Randolph-Macon Woman's College and received her M.A. in English at The George Washington University. Ravy has been an instructor of composition and literature in higher education since 2009. She is currently working at a private educational center for advanced K-12 students.
Becca Grawl
Rebecca Grawl is a professional tour guide with more than a decade's experience in public history and tourism. As a local guide and self-employed businesswoman, Rebecca works with a wide range of audiences, developing in-person and virtual tours on a vast array of topics, with a special focus in women's history. She is proud to be a founding member of A Tour of Her Own, the first tour company in D.C. to focus exclusively on women's history. She is an advocate for women's education as a proud graduate of Randolph-Macon Woman's College, holding a Bachelor of Arts in American Culture and active in her alumni organization. Rebecca is a member of the National Society Daughters of the American Revolution as well as an alumna and senior leader with the National Society Children of the American Revolution. She serves on the board of the National Woman's Party, among other civic organizations. Rebecca can be seen on Mysteries at the Museum on the Travel Channel, is a lead contributor and researcher for the Tour Guide Tell All podcast, and has been featured in local media outlets such as WAMU/DCist, Washingtonian magazine, Washington City Paper, TripHacks DC podcast, and more.